The need to update your Aadhaar card can happen on various occasions like after marriage, after shifting your home to a new address, after moving to another city or state, after getting a new mobile number, etc.
So today in this article I will introduce you 3 methods to update your aadhaar card in 2023, and they are as follows:
Update Aadhaar online
Update Aadhaar through post
Update Aadhaar through Enrollment Centre
All these 3 methods are unique in their own way and can be used according to your needs and convenience. So below we have explained how to update your aadhaar card in 2023 through these 3 methods.
Process to Update Your Aadhaar Online in 2023
UIDAI allows residents to update their Aadhaar details online by accessing the official UIDAI portal. The only limitation in updating your Aadhaar details online is that you can only update your address and nothing else.
So if your address is changed recently you can update it online through this method, but you should have a mobile number registered with aadhar card to update or correct your address online with aadhar card. Below is the complete process that will explain you, in a nutshell, to update your Aadhaar card in 2023.
Visit the official website of UIDAI https://uidai.gov.in/ to update your Aadhaar online
Just click on the Update Your Address Online option on the homepage
On the next screen, two methods of online address update will appear and they are:
Proceed to update address
Request for Address Validation Letter
Just click Proceed to update the address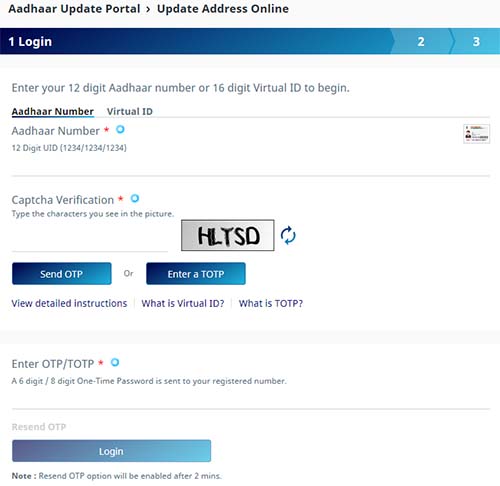 A form will appear where you have to enter your 12 digit UID/Aadhaar number or Virtual ID, solve captcha and click on Send OTP button or you can use a TOTP option if you have mAadhaar app on your phone.
You will get one-time-password which is OTP on your registered mobile number (if your mobile number is not registered with your aadhaar then you cannot proceed to update your aadhaar online, so you have to go to the nearest update center to update your aadhaar )
Enter the one-time-password received in the Enter Accepted OTP field and click on the Login button
The next page will display two options:
Update address through address proof
Update address with secret code
Just click on Update Address by Address Proof
On the next screen, you need to fill your address details and click on the preview button
On the next page, the details you entered will be previewed
If you have entered the details correctly, just do a quick review, tick "I hereby confirm that I have read the instructions carefully and the information I have provided to UIDAI is true and correct" and click on the submit button.
On the next page, you need to upload a valid address proof document, select the document from the list that you will upload and upload the document, you can view the list of documents by clicking here.
The document you are uploading should be in .pdf, .jpeg, or .png format but the maximum document size should not exceed 2 MB.
Once the document is uploaded, just click on submit button
On next screen URN which update request number will be displayed, you can print acknowledgment of receipt of Aadhaar update request
You can use this URN to check your Aadhaar update status in future
You will be informed about the successful update of your Aadhaar through SMS on your registered mobile number, and the updated Aadhaar copy will also be delivered to your home by post.
Process to update Aadhaar through post [discontinued]
The following process of updating Aadhaar through post has been discontinued by UIDAI. The post below is only for your reference.
Through the post method, you can only update your Aadhaar card address.
Click here to download and print the form to update your Aadhaar details by post.
Once you have a printout of the Aadhaar Address Update/Correction form, fill the form correctly
Only attach self-attested photocopies of PoA documents which are required to update your new address on Aadhaar card, you can refer a list of documents by clicking here.
Once you are done, fold the form with the document and put it in an envelope.
And post it to the address below:
UIDAI,

Post Box No. 99, Banjara Hills, Hyderabad – 500034, India
Once your form is distributed your Aadhaar update request will be processed in next 2 to 3 weeks.
Aadhaar with new details will be delivered to your address through post.
2023 Process to update Aadhaar through Enrollment Center or Bank
By visiting the Aadhaar Enrollment Center, you can correct or update almost every detail of your Aadhaar card like name, address, date of birth, age, gender, mobile number, email ID, relationship details, photograph, iris and fingerprints. At a time you can update multiple fields of your aadhaar through this offline mode.
To update your Aadhaar card you need to visit the nearest Aadhaar enrollment center or bank to your location which you can find by clicking here.
You can get aadhaar update form from center or else you can download form from here and prepare at home.
Fill the form completely with the correct details you want to update and you also need to carry the original document and a copy of your existing Aadhaar card for verification. You can find a list of supporting documents by clicking here.
Go to Aadhaar Enrollment Center with forms and documents
Hand over the form along with the documents to the verifier
The verifier will check your details on the form and documents and return the original documents to you
You will be asked to take a seat at the operator desk
The operator will enter information that needs to be corrected or updated
All necessary information will be captured and handed over to you with Aadhaar update receipt
You should keep the update receipt safe with you till your new details are updated in your Aadhaar and you get a new Aadhaar card.
That's it, this way one can easily update their Aadhaar card.